SBI! Reviews: E-Goods, Update 1
Hi Ken,
It's Marney, your friendly neighborhood artsy SBIer. :-)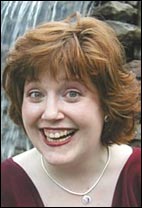 I hope your holidays were wonderful and that you are gearing up for the most inspiring and meaningful year ever, both personally and professionally.
I am getting a jump start on one of my January goals, which was to get caught up with all the wonderful things going on in SBI. I have been so far behind in keeping up for the past several months -- but BLESS you guys...all the stuff is so easy to access so I can find back issues and recent announcements without going totally crazy.
I really, really appreciate all the things you do to save busy business owners time. In fact, if I look at the tapestry of all the many SBI launches in 2004, that seems to be the common thread that I observe -- more and more ways that YOU save US time!
From the Action Guides to easy HTML compatibility, from Quick ReUpload it and HQ Resources...I sometimes get the feeling that you guys are just watching me in secret cameras, observing where my frustration lies, and then WHAM! coming up with an answer.
When people in the Artella community ask me how I manage to get so much done in a day, I always talk about SBI first, because it is far and away the number one item on my list of sly tricks for maximizing time. We SBIers are the luckiest business owners on the planet.
As part of my "dive into SBI", I checked into the forums for the first time - and WOW, what an incredible resource. Of course I got a big smile when I read about the Design contest, and your quest for adding more diverse templates to the SBI collection.
I've shared with you before that that was my only hesitation when I was first starting out (which ended up being unfounded, since I could create my own look and feel), but having the flexibility for more diverse "Look & Feel's" will be an amazing feature. The designs being submitted are truly fantastic. I'm amazed at what folks can do with the template-building abilities of SBI!. So WAY TO GO on this idea. I plan to work up a few designs to submit to the contest, as well! :-)
In addition to all that you and the SBI team do to help us maximize time, you're constantly coming up with new ways to help us save money. As you have added more services to the already extraordinary list (i.e., form-triggered autoresponders, password-protected pages, the private Forums, Search It!, MYCPS!, Manager 1.8 and Super-Brainstormer, etc.). It means that we don't have to sign up and pay for outside services for these features.
So... I'm building a bigger and more profitable business, AND saving quite a bit of money this year, thanks to all the additions in 2004.
Finally, I have a long-overdue but incredibly heart-and-soul-felt "thank you" for SBI! itself. There is a wonderful ripple effect that I want to share, if you'll indulge me for one more moment, because you and SBI! are the pebble in the pond that started the ripple.
In early November, we held the first-ever in-person Artella retreat (called 'The Creative ManiFestival'), at a lovely venue in Connecticut. There were several people who were interested in attending but were struggling with the financial end of it.
I had some money in the Scholarship Fund that I started after my Dad died this summer (http://www.artellawordsandart.com/shoppes-scholarship.html). Thanks to SBI!, I've been able to grow that Fund and enable people to come who would not have been able to afford it otherwise.
I'm really only in a position to do this because of what I've been able to build with the invaluable help of SBI!. SBI! is a gift -- there is no other way to say it. Thank you for this wonderful gift -- it allowed me to grow my business and help others.
By the way, the retreat was very powerful for those who attended, especially some who might not otherwise have been able to afford to be there -- several women later told me that the weekend was the biggest creative catalysts in their lives! :-)
You always say that SBI! is just the tool that enables us to build these rewarding businesses. But it's the ONLY tool of its kind and I just wanted to share the ripple effect that you have, not just on SBIers' lives, but on those we reach... and so forth. :-)
So, on THAT fantastic note, I'll thank you for being, as I've said before, "the man behind the curtain". You are one of the things I'm most grateful for in 2004!
Marney K. Makridakis
Founder/Editor
Artella ~ the waltz of words and art
www.ArtellaWordsAndArt.com
a magazine and support network for writers, artists, and creative spirits