SBI! Reviews: E-Goods, Update 3
Dear Ken,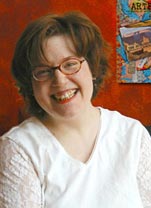 Everything here is AWESOME!
My husband and I recently returned from a month-long road trip across the country, largely pleasure but also business, as we made new wholesale accounts for Artella magazine with many stores.
We have expanded our team so that we now have 10 wonderful people working with us. We all work from our virtual home offices, located all over the country. While we work hard, we also have a lot of fun, too. Our chat room staff meetings often feel like parties because of all the laughter, and there is truly a family atmosphere because of the joint commitment to Artella's mission of inspiring people through uniquely creative channels.
We've topped over 1,000 products sold on the site. The line of eProducts I've created are expanding and are joyfully profitable, and what's even more rewarding is that Artella is now selling products created by those who have learned about the process of creating eProducts from my "Create Your Own YOUniversity" e-course and other products.
Oh my goodness, Ken... this is something I never could have predicted, the modular succession of what happens as more and more people discover and follow their dreams, and how great it feels to be a part of that. But I know you know exactly what I'm talking about.
Traffic continues to grow. We've been winning awards (including two years on Writer's Digest's 100 Best Web Sites for Writers List), been featured in books, and I've been publishing articles in leading magazines. I'm also writing a book about starting creative businesses.
However, most important: staying authentic; continuing to always make business decisions that are first anchored in 1) authenticity to Artella's mission and 2) Personal joy...and THEN 3) monetization (goes back to my "monetizing and missionizing" theory - it works.)
And you know this, but it always bears repeating - I will ALWAYS, ALWAYS, ALWAYS credit SBI with handing me everything I needed on a golden platter.
And you're the man behind the curtain - don't you forget it!
Marney K. Makridakis
Founder/Editor
Artella ~ the waltz of words and art
www.ArtellaWordsAndArt.com
a magazine and support network for writers, artists, and creative spirits