SBI! Reviews: E-Goods, Update 4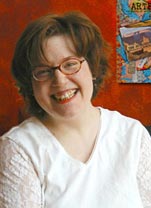 Hi Ken,
Everything here at Artella is going great. Since my last update, our site (www.artellawordsandart.com) has continued to grow in many directions as we aim to pioneer a creative destination unlike any other on the Web.
As you can see from our newly-designed home page, we now present Artella as an imaginary paradise - a set of enchanted islands that celebrate words, art, and spirit.
Some of our newest additions in this destination include newly expanded Membership programs; The Artella Daily Muse, an online daily creativity newspaper; and the "Artella Cafe" - a thriving online community filled with forums, personal blogs, and art galleries... like a "MySpace" for artists, writers, and creative folks.
It's hard to believe it all started with a little self-published magazine that I started as a hobby five-and-a-half years ago!
As we've added various components to the site, I've been consistently aware of SBI!'s superb flexibility. To my delight, upgrading to a more graphically-sophisticated look has been a piece of cake with SBI!, as has integrating with other third-party services that we've added to handle our various new technological components.
Even though the site now has several main areas, the visitor's experience is a streamlined one, thanks to SBI!'s ability to grow and change with us.
When we add new components to Artella, it is never without a great deal of research, thought, and planning. All of the things that we've added have been directly related to extensive surveys, polls, and discussions with creative folks, helping us get a real sense of what needs they have that are not yet being addressed online. This is something I really learned from Sitesell: the importance of listening to heart of the customer to find out what is really needed and necessary, and not just what is "trendy" or "hot."
Artella's operations are run by a team of fifteen ultra-talented people who live all over the world, working from home. We work hard and have a lot of fun, too. The vast majority of them, I've never even met in person - but I feel like they are as close to me as family.
Speaking of growing families...
My husband and I followed a dream to move to Hawaii, and we are expecting our first child any day now! I imagine that before too long I will have a new case study for you: "Toddler Runs SBI! Site!"
And while that might be a slight exaggeration, it's based in earnest truth. The way SBI! continues to grow and change so that WE can all grow and change, and to do it with such ease, is unparalleled. I'm so fortunate to be part of the SBI! family, and not a day goes by that I don't reflect on this.
Thanks for all you do to help so many of us follow our dreams!
Marney K. Makridakis
Founder/Editor
Artella ~ the waltz of words and art
www.ArtellaWordsAndArt.com
a magazine and support network for writers, artists, and creative spirits