SBI! Reviews: E-Goods
Dear Ken,
Do you remember when you wrote this statement about SBI! users?
"...people who "took a chance" and then realized that their worlds had changed when they jumped into SBI! with both feet and ran with it."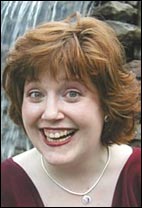 Well, it could not be MORE true for me!
But it didn't start like that. Like so many others, I crawled on my knees, painfully and slowly, before running full-speed with SBI!.
In September, 2002, I had the idea to start a magazine for artists and writers. That's where it began.
An artist and writer myself, I had experienced a growing interest in using words and art together as an art form, and found the process of making words visual, and making art narrative, to be a very liberating and dynamic form of artistic expression.
But as much as I loved making words and art myself, what excited me even more was creating an opportunity for collaborations within a creative community. More and more, I was learning how much we long for community, how much it fuels us as we dance with the earth's tilt and embrace all that is possible in art and life.
I decided that the best way to ignite a communal spirit among artists, writers, and creative individuals was to publish a magazine of collaborative creative works. It would be called Artella ~ the waltz of words and art (named for "art" and "telling"). I would publish it monthly, alternating between print and electronic issues.
The full vision for this idea came to me remarkably quickly, with a velocity that took my breath away. I was in the hospital for a lengthy rehabilitation stay following knee replacement surgery, and my inspiration was no doubt aided by much spare time, sleepless nights, and heavy pain medications!!! By the time I was ready to come home, not only was my idea for Artella fully fleshed out, I had a solid step-by-step plan to make it happen.
The pain
I have a confession to make: Artella's first Web site was not with SBI. Although I had read raving SBI! reviews from Michael Holland, who runs several SBI! sites, including www.home-decorating-made-easy.com and www.strike-it-niche.com, I didn't think I could afford it. (Actually, I didn't know that I could not afford not to have it, but you find these things out the hard way sometimes!).
Obviously, I knew SBI's price was great for what it offered, but I thought a better option would be to just save the money by doing it myself. So I built a site in a Web layout program and uploaded it to my ISP's free Web space.
I did a fairly decent job creating my first site, and looking back, I know that launching that simple site was an important step in keeping up my momentum. But I could have saved so much time and energy, and started earning money sooner, had I only started with my SBI! site.
My first site was attractive and functional, but it was really cumbersome to update. I had no way of knowing what my stats were, but based on my newsletter mailing list, I knew there wasn't much traffic at all.
How frustrating to have an aesthetically beautiful site, with nobody to see it! Furthermore, my subscription sales to Artella were discouragingly modest. At my printing of Artella's first issue in February 2003, I had only 40 paid subscribers. I printed the copies from my home computer printer.
Fast forward to the present
Just a year later, I have over 1,000 paid subscribers to Artella, and a cornucopia of ancillary products that not only support the professional full-color printing of Artella the magazine, but also earn me a full-time income, and support a small staff to manage Artella's exciting expansion.
In one year's time, I went from fiddling around with a hobby to manifesting a full-time business doing what I love: celebrating the creative uniqueness in an ever-growing community of thousands of people all over the world, inspiring them to uncover their artistic spirits and dare to let their creative souls shine.
What happened to instigate this dramatic, life-enhancing change? The turning point was when I bought SBI. From there, my options were limitless, and everything changed.
Shortly after my first issue went out, I decided that a Web site that wasn't getting seen was hardly better than no Web site at all. So in March of 2003, I took the plunge and purchased SBI. As I said, I had heard great things about SBI, specifically from Michael Holland who has a few SBI! sites.
It was not an easy decision
I was skeptical that I could get the visual feel that I wanted with a template-based builder. Little did I realize that SBI! does not limit you to templates -- I had the option to "start from scratch" to create my own Web page elements for a truly one-of-a-kind look.
As a freelance writer, I did resonate with the concept that WORDS sell, not fancy graphics...and yet, since my product was an art/literary magazine and my audience was primarily artists, the graphics WERE uniquely important to me. I was doubtful...none of the sample sites I saw seemed to have the kind of aesthetic that I was looking for.
I was an atypical SBI! customer, for sure.
I also was counting pennies, and the investment was a challenge, especially when this little hobby of mine was losing money, rather than earning any. But it was clear to me that if Artella was going to continue, something would have to change. So I did it...and it was the best decision I could have made.
I took the plunge -- "jumped in with both feet", as you say -- and as you can see, I used the SBI! builder to make a beautiful site (www.ArtellaWordsAndArt.com). I was surprisingly impressed with the flexibility of the builder.

I was able to create a custom look and feel that has worked wonderfully for me. It constantly gets positive feedback from my visitors.
And now that SBI! is compatible with HTML editors, some of the more recently added pages of my site are uploaded HTML (for example, I wanted the pages in my creative marketplace, www.ArtellaWordsAndArt.com/shoppes.html, to have their own distinctive look).
I created these pages with an inexpensive "what you see is what you get" Web authoring program (IXLA Web Easy), and uploading the files to SBI! is a snap. I was delightfully surprised when I saw that even when I uploaded my own HTML pages, SBI! still analyzed the pages to ensure they were optimized for search engines!
But even though I now generate my own HTML files to upload some of my sub-site pages, my main site maintains the original look and feel that I created with SBI's builder -- yes, your customizable templates really are that good. And the flexibility of being able to do both my own HTML and/or template is AMAZING.
But how could an artist ever hope to master the engines?
SBI! made it easy to learn how to optimize my pages for search engines. I quickly learned (actually SBI! took me by the hand and made the process "artist-proof"!) how to build traffic right into the content I was creating... as I created it.
The opt-in e-zine function was easy to use and it gave me hours of new free time; with my first Web site, I was handling all of my e-zine signups manually!
In a matter of just a few weeks, it was clear that my life would never be the same again.
Magic! The build begins
Visitors to my old site were so impressed with my new Web home, that they started spreading the word. The search engines started finding me, and so did my potential customers.
Since I had access to detailed site statistics, I could easily see which pages were working and which weren't, so I could make changes accordingly. It was as if SBI! finally eliminated the guesswork in running an Internet business, so I could focus on generating new ideas, rather than worrying about the technical mechanics of my Web site.
The next phase of Artella was very exciting. With a sparkly new Web site, growing traffic numbers, and a newfound confidence, I let the brainstorming loose. The fact that SBI! does not limit file size of Web sites made it easy to "think BIG"...it was very freeing to know that I could grow to any size and not have to pay additional fees for new file space.
My brainstorming was grounded by the question, "What can I offer to help serve the needs of writers, artists, and creative individuals?" By approaching the growth of Artella from that point, rather than looking simply at marketing strategies or "bottom-line" goals, I was able to synthesize all of my big ideas and authentically select the ones that were most appropriate.
The beginning of monetization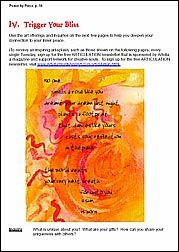 I started writing articles and giving free teleworkshops as a way to broaden the Artella community and get a sense of what was missing from the lives of creative people. After writing an article about non-linear goalsetting for creative people, I received over 100 emails within two days of publishing the article. That led me to creating my first e-course, "Goalar Energy: A Unique Guidance Program for Extraordinary Action".
From there, I developed more e-courses on a variety of topics, as well as eBooks, teleworkshops, and series of audio lectures. I started three online community forums to allow creative people to connect with one another, and I continued to listen to the challenges of these people's lives in order to discover needs that were not being met.
One such need was the lack of high-quality, affordable online marketing options for artists. Thanks to the features and flexibility of SBI, it was easy for me to launch a creative marketplace, The Shoppes of Artella, that sells over 250 handmade products by different artists, growing at rapid speed!
And by the way....I use the Paypal shopping cart with SBI! to sell those 250+ products. It works great... so simple and easy, and effective and cheap!
I don't know why so many Web site owners make their lives so difficult -- the SBI! Resources HQ saves us all hours of time by presenting a list of "best of the breed" third-party specialized functionality options. SBI! has all the core functionality any business needs, but as I've grown to add other functions (i.e., Web audio, hard goods shopping cart, affiliate tracking, interactive scripts) I can simply plug-n-play the functionality right into my SBI! and all its traffic, without any frustrating compatibility issues.
Because SBI! allows me to affordably put forth so many different products and services, I can share a lot of offerings for free, and I think this an integral part of Artella's success. Nothing gets the "buzz" going like unique free offerings, and I'll share a hint...nothing feels as good, either.
The site has a one-stop reference for free offerings (the "FREE-Tella Studio"), which is my third-ranked traffic page. While that might not sound necessarily profitable, I have to say that these free offerings pay off, revenue-wise, every single time. The offerings ignite interest, promote loyalty, and fulfill my mission, all at the same time.
Offering a constantly- revolving roster of free products can be part of what SBI! calls "PRE-selling"...but I just call it following my heart. This approach has never failed me, yet!
Before I started with my SBI! site just short of a year ago, I had one single product -- a magazine for artists and writers that I was planning to have professionally printed in full color. People told me there was no way I could make it work, financially. Guess what? They actually were RIGHT!
Ken, I don't mind telling you...
If I were not with SBI, I'd most likely have to be paying more as my company and site grows.
If I were not with SBI, I'd have a much harder time getting the stellar search engine exposure that I have now.
If I were not with SBI, it would be far more difficult to coordinate Web updates with my tech support team, now that I have grown beyond being a one-woman enterprise (yay!)
If I were not with SBI, I wouldn't have access to all of the new and upcoming SBI! features and third-party connections that are announced in your practical and inspiring newsletters (the only marketing newsletter I need to read!).
There was no way that I could have built a financially profitable business with my magazine, on its own. But thanks to all the options and resources from SBI, and to lots of out-of-the-box thinking, I found that it is possible to build a business that combines multiple streams of income from a variety of ancillary products and services (e-courses, teleworkshops, eBooks, lectures, an online marketplace, etc.) that are making a difference in the lives of my audience.
In less than a year, I went from publishing a magazine as a part time hobby to launching a full-time creative business with a small staff, and a team of affiliates who enjoy helping me promote Artella's products. I have created such a successful model for creating e-courses that I'm offering a comprehensive course in how to do it. Enrollment is $400 -- a nice price, and the course filled to capacity within three weeks, with a waiting list for the next session. Now THAT is sweet success. And SBI's flexibility made it all possible!
Ken, you could not have been more right when you said that my life had changed forever when I got SBI...it is so, so true.
Thanks for everything! And thanks, too, to Michael Holland for telling me about it! You can be sure that I will pay his favor forward and tell others.
Marney K. Makridakis
Founder/Editor
Artella ~ the waltz of words and art
www.ArtellaWordsAndArt.com
a magazine and support network for writers, artists, and creative spirits