SBI! Reviews: Infopreneur, Update 5
The "Coolest" Brand!
"C2 Tsumoney"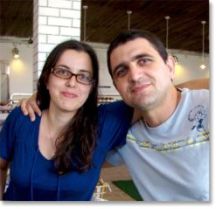 Dear Ken,
This morning a "C2 Tsunami" hit one of my sites. I received around 500 new Content 2.0 (C2) submissions in the span of 24 hours yesterday! Even I find it hard to believe that 500 people created and sent me content-rich Web pages in ONE DAY!
And that's after I've been up to my ears handling tons of visitor-created content. Over the past week alone, I've approved over 400 new Content 2.0 submissions on another one of my sites.
SBI! 2.0 is absolutely incredible! There's no way I could have written so much rich content, so varied, so quickly!
I have no idea how I'm going to get a grip on this magnificent C2 monster you've helped me create, but what I do know is that this C2 Tsunami is helping me add great content to my sites every day. And it's quickly becoming a C2 Tsumoney. :-)
Traffic is going completely out of control this year... 1.5 million unique visitors across the three main sites per month on average for 2009 (that's up by 1/2 million uniques PER MONTH from last year!).
Hard-to-imagine numbers, but it's really happening to a "noob" like me... (Isn't that what those sleek online marketers dubbed us hard-working content-focused SBIers? "Noobs"?)
Well, tell 'em to google "birthday cakes," "homemade costumes," "kid parties," and literally thousands more high quality keywords. Look at the #1 spot. That's all the proof one needs to understand that SBI! works.
By the way, I've slimmed-down (over 30 pounds in 90 days!). I haven't been spending long hours in front of the computer. Instead of "working", I've been living my dreams to the fullest, including returning to play semi-pro soccer at my old age :-).
My sister, Tamar (we're together in the top photo), is my online business partner. She is an art student, and she's thrilled to be living her own version of an artist and student's dream. Tamar's income from SBI! is probably higher than any of her teachers. And, most importantly, she has the freedom to focus on her art without needing a "job" to get by.
Oh yes, one more thing. In a few months we're moving into our new house built 100% from SBI income. I'll put a "This is an SBI! Home" sign out front. ;-)
Once again, thanks for everything, Ken!
Elad

coolest-parties.com
coolest-kid-birthday-parties.com
shippony.com (see my SBI! adventure where I took a trip to Canada to meet the folks at SiteSell, as well as other SBI! owners)