SBI! Reviews: Retirement
Update #3
The Many Rewards That Go Beyond Extra Money
"A business that makes nothing but money is a poor kind of business."
- Henry Ford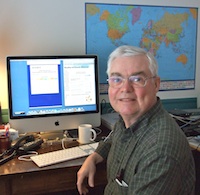 I find the subject of making money rather boring. Really. Therefore, for this update, I decided to tell you about the wonderful and very significant rewards, beyond money, that I get out of SBI!. (Don't get me wrong - we all need a minimum amount of money to live on. With SBI!'s help, I have enough income to live comfortably.)
Making money is a way for me of keeping score. It is one way of measuring how well I have mastered SBI!'s C

T

P

M marketing process. In a way, it is also a means of measuring how well I am responding to my target audience's needs. What I find though is that money is far from being a perfect indicator of success.
Soul Nourishing Feedback
As you may already know, I own 3 Web sites that are part of my overall and very personal self-marketing endeavour on the Web. I find my site visitors' feedback most gratifying and more rewarding in many ways than money. I consider that I have reached my goal when people write me to help them solve a problem.
People who do not know that I exist, look for answers on the Web each day. They find my Web site, read the information - derived from my personal experience and know-how - that I share with them on my pages.
Often, my site's content strikes a chord and convinces them that I can help them ... they trust me with their problem! I find this to be one of the most magical things of life.
Let me give you a few examples to illustrate that the benefits extend beyond money and that, both my Web site visitors and I share in these benefits.
1) Solving Weather Related Problems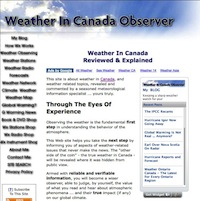 The other day, someone (let's call him John) wrote me on Weather-In-Canada-Observer.com for expert advice on a weather-related matter.
John sold his house last year. The new owners are suing him for $143,000 because the roof leaks. In preparing for his defence, John wanted me to do some research on the climatological data for a specific number of days over the area where his former house is located. He also wanted me to help him understand the many factors that preceded the event and that may have contributed to make the roof leak.
With my help, John will now be able to demonstrate that the combination of meteorological events that took place was exceptional (had never been this severe in recorded history). The meteorological situation far exceeded normally accepted building code and practices for the area. These exceptional circumstances were beyond John's control.
I make money because I charged him for my services. He makes money because he will likely save tens of thousands of dollars in damages.
One more satisfied customer. John is now a good friend and we chat often on Skype.
2) Solving Ham Radio Problems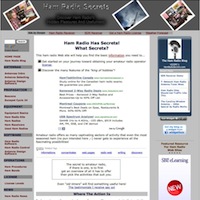 Someone wrote me on HamRadioSecrets.com to help her solve a thorny problem. Let's call her Joan.
Joan and her husband have been licensed ham radio operators for years. They used to live in the country where neighbours were far apart and where there was lots of room for large radio antennas.
They want to move to a condo in the city, closer to services, but outdoor antennas are not permitted where they want to move! So Joan asked me to help them find a way to continue enjoying their ham radio hobby in this new restrictive environment.
I helped them by providing a number of different solutions involving "stealth antennas" (invisible) that could be installed at their new location. Joan wrote a few weeks later to tell me that she had found a supplier of the parts needed for the stealth antenna on my Web site.
I earned a commission from those purchases as an affiliate. Joan and her husband managed to retain an important aspect of their quality of life through my help.
Joan and her husband are now friends. We often make contact of the 40 meter band and enjoy exchanging ideas on life as "boomers"! ;-)
3) Solving Self-Marketing Problems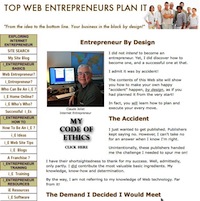 A father has been a beekeeper for more than 40 years. He is very popular and his expertise is in great demand. His problem is that he is tired of helping aspiring beekeepers one-on-one, essentially repeating the same information over and over again.
Over the years, his reputation grew and the tutoring activity had grown to consume a prohibitive amount of his time. Annette told her father that she would solve his problem with a Web site. The tutoring information would be available in one single spot and as an added bonus, they could use the site to promote their products and services.
While researching the Net, she landed on my ClaudeJollet.com site. She was impressed enough by what she learned on it that she contacted me, explained her plans and asked if she could create an SBI! Web site entirely in French.
Over a number of email exchanges, and phone conversations, I answered her questions and explained how the SBI! marketing process could be adapted with some modifications to her French environment. The marketing process is really universal.
Annette's father is now grateful for the newly found free time, which he is now using to unwind. Annette has seized the opportunity, that their Web site now offers them, to expand their business with more offerings (products and services) that lack of time had not permitted before.
As a SiteSell affiliate, I receive my commission every year when Annette renews their subscription to SBI!. As a friend, I receive an assortment of products made with honey in time for Christmas! ;-)
Annette and her father are happy with the results. I'm happy with yet another rewarding relationship.
Beyond The Money
When people confide in me and submit their problems to me, I am rewarded beyond money.
When they buy something that is offered on my Web sites, they get more than what they pay for. They get the decision-making information they were looking for, which usually exceeds their expectations.
I gain more than a satisfied customer. Often, I make new friends that way. Like I said, there is more to SBI! than just making money.
The more people you help, more come to you. Google and other Search Engines notice and progressively give your site more exposure ... which, in turn, helps more people find you. That's how I make friends who will gladly pay for my services.
It's all very rewarding thanks to SBI!, in more ways than one, for all concerned.
Claude Jollet - VE2DPE
Avid ham radio operator and SBIer.
"Actively retired"
P.S. Over the past twelve months, close to one quarter of a million individuals (220,020 unique visitors) paid a visit to my Web sites (including Sejours-Eclectiques.com, which I jointly own with my wife). And traffic keeps on rising... and expanding my circle of friends!
http://www.weather-in-canada-observer.com/