SBI! Reviews: Sales Agency
Update #4
The Year That SBI! Knocked My Socks Off!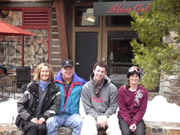 It's a good time to update you about the past year at Sonoma Health....
Kate and I enjoyed another year of success as a couple (20 years in our marriage) and 4 years of progress with our company, Sonoma Health Products. The company is still providing the income necessary to fuel the financial needs of our family of four.
And yes, the cornerstone of our success at Sonoma Health is our sonomahealth.com website we created with SBI!.
As we say every year...... Thank you, Ken.
I believe this past year proved how amazing SBI! really is - even more than my earlier years with this product! Of course, SBI! has always impressed me. The power it gives an individual to develop a business is unequaled by any other product.
But this past year SBI! totally knocked my socks off. Here's why...
We purposely did something different with our business. I'll keep you guessing what it was for a bit longer! First, I want to share these important stats:
Sales revenue is equal to last year.
Margins are a little lower, but acceptable at about 25%.
Now you may think these financial results are sort of weak compared to the growth we've had in our first few years. However, because we ran the business a little differently, you have to take into account the next important non-financial stats from last year:
Rounds of golf played by Jerry - over 125 rounds - handicap went from 18 to 12.
Kate never missed a Pilates class or daily swim because she had to be at work.
Yep, you guessed it. We coasted a bit in 2007, kind of went on a sabbatical of sorts.
It was an experiment based on our envious observance of a college professor friend who was on a sabbatical leave of absence the year before. We asked ourselves if college professors can do it why not SBI! owners?
We did our sabbatical because we had SBI! working for us.
SBI! kept delivering targeted traffic to us even though we did not add much new content. Our traffic was off a little but not enough to really matter. We still had a very successful year.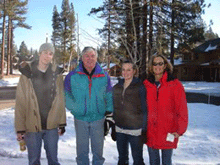 Our company provided all we needed, thanks to the power of SBI!.
Next year, we plan on getting back into business full time. As I look at SBI! again, 12 months later, and see all these new tools and capabilities added, I can't help but say, "Wow, Ken, don't you ever rest?"
I think next year will be a lot of fun using all these new tools and taking Sonoma Health to the next level. What ever that is!
I only hope my golf handicap doesn't slip this year.
Now Ken, I hope all the newbie SBIers out there don't get the wrong idea. The time we put into our website and business in previous years was not minimal. This is the 6th year of using SBI! and in the first 5 years, we worked on expanding our business.
There is no substitute for putting in the time and developing quality content. The C is the most important part of the CTPM process.
But this year we coasted and let SBI! do most of the work. The beauty of it all is that SBI! never coasted; it kept working even while we were out on the golf course, in the pool and at the gym.
SBI! is a great business partner. It never rests.
Anyway that's it for our latest update at Sonoma Health. Have a great time next year. Kate and I plan on doing so!
All the best,
Jerry and Kate Mack
Sonoma Health Products, Inc.
www.sonomahealth.com