SBI! Review: Sourcing, Buying and Selling Vintage Comic Collections
Update #1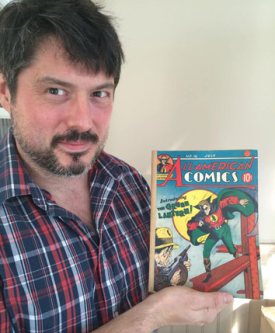 Time flies when you're having fun! Having talked just over two years ago about growing pains, I find myself at a loss for what to tell you about first...
I think it's appropriate to begin with the topic on every SBI! business owner's mind. Traffic. For without traffic, it's really impossible to monetize.
The happy news is, the past 27 months have seen stellar growth in our organic search traffic.
Numbers alone don't tell a story, but here are some anyway...
Since July 2014, SellMyComicBooks.com (SMCB) has had 6,282,960 page views. 3.43 Million of those have come in the past year to date.
We've welcomed 1,661,685 visitors in that time, 818,612 of them in the past year.
What's nice about these numbers is that half or more of the action has happened in the past 12 months. That means our growth is still continuing.
The Hidden Benefit: eBay Partner Network
Once you get sustained traffic, patterns become easier to spot.
One surprising discovery: people are using our site as a reference before BUYING comic books on eBay.
Back in October 2012 when I began this project, I never considered this possibility. I just needed somewhere to link visitors to for "live price checking."
eBay seemed like the obvious answer.
This year alone, SMCB has generated $41,000 CDN in eBay commissions.
The numbers began to get interesting about 18 months ago. I sat up and took notice.
If people were buying books after reading my "evergreen" content, how would they feel about it if I actually tipped books as potential investments?
So I began building a mailing list. Currently we have 5,500 on the list. All people who have expressed an interest in buying comic books as investments.
I'm creating digital products to sell to this market, as well as tipping books once every ten days or so. (All linked to eBay via the partner network, of course.)
The Main Attraction: Buying and Selling Comic Books
While it's never a bad thing to have diversified income streams, the wise entrepreneur keeps his eye on the main attraction.
If you're in the buying and selling auction model, the biggest challenge is always sourcing inventory.
Especially if what you deal in is vintage. You can't just drop a wire transfer to your guys in China and get a crate of 1960s comic books to liquidate.
The original "mission statement" for SMCB was to source comic book collections, so I didn't have to trawl through Craigslist listings and the like.
I also suffered from local market fatigue. Nice as Montreal is, there are lots of local guys trying to do what I do. Too many fish fighting over the same chum.
SMCB was designed to bring collections and better single comic books to me. And that is what it's doing, with great success.
Since the beginning of 2015, SMCB has spent just over $730,000 buying collections (not including cost of goods purchased, such as shipping, air fares and hotels when a collection has warranted travel, etc.).
Almost all of that has been financed from turnover. With one exception, when we brought in an investor, all our collections have been paid for by our own endeavour.
It's all been possible thanks to my superhero business partner, Sean Goodrich.
Meet the Superhero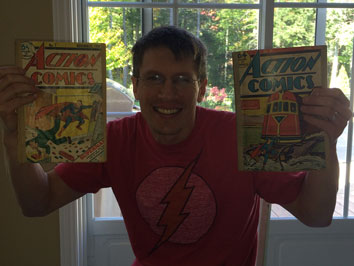 Sean and I became acquainted while he was working at Comiclink, the auction partner I use for higher-end items.
We spoke almost every day and became friends.
The fateful conversation came after he resigned from his job. He called me to say, "Would you like to go into business together?"
That phone call was the 'origin story' of the real growth of the business.
With Sean freeing me from the need to do everything on my own, I have been able to focus on the front end of the operation:
Building content and traffic
Developing products
Increasing our customer retention with the mailing list and e-products
Sifting through leads from potential sellers (we get between 100 and 200 emails per day)
Striking deals
Sean takes the back end of the operation, namely:
Issuing payments
Receiving the books
Processing them for sale
Listing them on eBay or sending them to Comiclink
Packing and shipping orders
Sometimes we travel together to pick up bigger collections. But most of the time, he operates the back end in the Maine office, and I run the front end here in Montreal.
We're leveling up! Sean just signed a deal on our first office space.
We have one employee engaged already and another waiting for the space to be renovated. Work has already begun on the build out.
Conclusion
Last time, I talked about how my nine years of building SBI! sites was kind of an education. I made plenty of mistakes.
In hindsight, the biggest mistake was not focusing on one project at the expense of all my other ideas, false starts, and investments in websites for sale.
Some of those went well and some did not. None were a passion. None really lit a fire under me.
SMCB has done that. It has restored my confidence in my abilities, especially during a difficult period of my personal life.
I have enjoyed the privilege of travel (not always to exotic locations — El Paso, TX, I'm looking at you…), and investing in my business and my own skills.
I am currently going through Seth Godin's altMBA program. Working under the tutelage of a business superhero is a real thrill.
It's great not to have to worry about every penny, or "bootstrap" every time I need software, or the expert help of somebody who's mastered a field that I don't really need to learn back-to-front to benefit from.
All this has been made possible because SBI!'s tools (sorry to sound like an advert here!) freed me from the minefield of hacked-together HTML/CSS of the past.
Without worrying about technical challenges, I have been able to do what I do best. Create content and ferret out deals.
Ashley Cotter-Cairns
www.sellmycomicbooks.com