Solo Build It! (SBI!) Reviews
and Case Studies
Solo Build It! (SBI!) is the only all-in-one, step-by-step system of process-and-software that delivers thriving online businesses. Everything that you need to grow an online business is built-in.
Website ≠ Business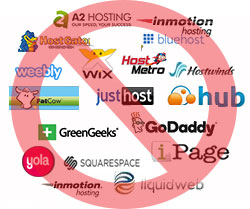 There are so many Web hosting and sitebuilder companies chasing your business... from the one-(wo)man-shop "local expert Webmaster" to the largest multi-national companies. They all promise the instant gratification of "getting your site up."
The only problem is that "site does not equal business." Building a website is only one step in a much bigger process. While anyone can put up a website nowadays, it will never be easy to build a high-traffic, profitable business.
That's where we come in. We make it DOable.
SBI! builds businesses, not just websites. The SBI! success rate is more than 100 times higher than that of the average would-be solopreneur (no typo!).
This Page Is All About Long-Term Success
We prove success in several ways. For example...
500 "Top 0.5%" Solopreneurs. These are "half-percenters," the highest-trafficked sites in the world. Out of 170 million active sites in the world, each of these 500 sites is in the Top 1 out of 200! No other company can show results like this.
Real-Life Solopreneur Successes. These are more recent stories from the SiteSell Blog. We accompany them with valuable "takeaway lessons" that you can use in your own business, even if you don't use SBI!.
No other business presents proof of success in so many different ways. Ours is a small community of "solopreneurs with BAM." The number of successes rivals that of web hosts/sitebuilders with more than a hundred times more clients.
This page is special in its own way — it's all about long-term success...
We follow them for years. Some of the stories start as early as 2002-3. They send in periodic updates (sometimes setbacks, usually advances) over the years that pass.
The point of this is to show the longevity of SBI! businesses. The reason that they thrive and grow is simple...
The more complex the Internet (and online business) becomes, the more value SBI! adds. We update and boil the process and tools down to what folks need. That way, you can focus 100% on your business. This is an important part of the long-term SBI! advantage.
Scan the page and find a success story or two that resonate for you. Read them completely — you'll understand how business-building with SBI! is a journey and what it could do for you...
The destination is freedom through business ownership. The story is one of personal growth, each individual pushing to levels they would never have thought possible.
Ready to take some long-term, multi-update, deep-dives? Let's get started...
Cut Through Doubt and Noise
These SBI! reviews of business progress are detailed recountings of individual experiences, each in their own words, in their own styles.
As you review their SBI! experience, do more than read the words — read between the lines. Follow the updates. Feel the emotion they have for SBI!. It is the very rare product that creates the type of intensity you are about to experience.
With that in mind, let's deep-dive into the long-term SBI! business lives of solopreneurs from around the globe — people who "took a chance" and then realized...
Their world had changed.

Case Study Menu
---
---
---
---
---
---
---
What Makes These Folks (And Thousands Like Them) Winners?
They...
put themselves into SBI!'s hands
trust and follow the Action Guide
supply the Brain Attitude Motivation ("BAM!")
tune out all the other Web marketing noise and focus on building their businesses.
And soon, when they see a real business start to build, driven by targeted PREsold visitors (C T P) who Monetize...
They start to realize that their worlds have indeed changed forever, all because they jumped into SBI! with both feet and ran with it.
Try it and see for yourself...
Take SBI! home for a "No Risk Test Drive" today.