SBI! Case Studies
The biggest mistake people make in life is not making a living at doing what they most enjoy. Malcolm S. Forbes (1919-1990)
SBI! is the only all-in-one step-by-step system of process-and-software that delivers thriving online businesses. Everything that you need to grow an e-business is built-in.
SBI! works for every type of small-small business ("SSB"). For example, are you thinking of starting an Internet-based, work-from-home business? SBI! is perfect, even if you have no online business experience. Click SHOW to see how SBI! helps you succeed.
There are so many Web hosting companies chasing your business... from the "local expert" to the largest multi-national companies. There is a lot of noise out there, all promising the instant gratification of "getting your site up."
Choosing the future home of your business is not an easy decision. Get started with SBI! and...
You see results. Your business builds. You realize that your life is changing in significant ways.
And that is why so many SBI! users go on to start a second site (many have five or more!) after their first one is established.
Cut Through Doubt And Noise
Important
The people featured here receive no compensation of any kind from SiteSell.com. Their stories are true. They write and update their case studies as their way to share SBI! with you.
If you read all of these Case Studies, you will notice one common thread... They all simply did it. They have "BAM" ("Brain - Attitude - Motivation"), the key ingredient that you must add to SBI!.
"Brain" does not mean "brainy." It means they have, or developed, knowledge in a niche. "Attitude" means they are positive. And "Motivation" means they want to build a business and take control of their wrok-life balance enough to sacrifice leisure activities.
We point this out because we do not want to falsely raise your expectations. SBI! does not deliver "automatic success." Nothing can.
Your degree of success depends on your own level of "BAM," upon how much time you devote to building your business, and upon following SBI! Action Guide and CTPM process correctly (every successful SBIer will tell you, "Follow the Action Guide").
SBI! delivers your best chance at e-business success.
We guarantee that the SBI! Process (Content

Traffic

PREsell

Monetize) works. We back that up with certified proof of success. No other company matches that.
Still, nothing gets a point across better than the personal, real-world experience of people just like you. The case studies here are detailed recountings of individual SBI! experiences, each in their own words, in their own styles.
As you review their stories, do more than read the words -- read between the lines. Feel the emotion they have for SBI!. It is the very rare product that creates the type of intensity you are about to experience.
With that in mind, let's proceed with the case studies, as told directly by small business people from around the globe -- people who "took a chance" and then realized...
Their worlds had changed.

Case Study Menu
Featured Case Study:

Elad Shippony - Infopreneurs/Information-Publishing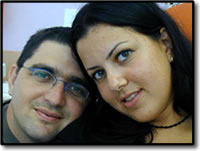 From Israel, Elad Shippony's story is a life-liberating inspiration. You'll see how the fundamental infopreneurial approach of SBI! validates Walt Disney's famous quote...
All our dreams can come true,
if we have the courage to pursue them.
Elad is an excellent example of an infopreneur, creating fun and entertaining content to drive traffic from the Search Engines, and then monetizing that traffic without selling a product or service.
If you do not have time to manage customers (or do not want to), low-maintenance monetization models like Google's AdSense ads, affiliate programs, finder's fees and others can build to thousands of dollars per month.
(Of course, when you are ready to sell a product or service, it's a simple matter because you have a site that already delivers thousands of targeted visitors per day. See the next case study if you want to sell your own products.)
"Tamar and I did lots and lots of research on kid birthday parties and started experimenting with our ideas on kids and during parties whenever the opportunity arose. We wrote up lots of content for the site and I was in charge of strategy and building the site from a technical aspect (although, with SBI!, you really don't need any technical knowledge because you can build a site through simple building blocks and monitor every aspect of traffic through a consolidated control center.). In no time, both of us became kid birthday junkies."
Read Elad's incredible journey, and how a simple (and fun) Web site, built by two "amateurs", turned into a highly-profitable source of income - in under six months.
Case Study: Work At Home Moms (WAHM)
Crystal Maleski - MakeDinnerEasy.com
Crystal, a non-techie, turns her passion for cooking into a successful online business. It all started with some e-mails to friends about easy dinner ideas. Now this WAHM, with four teenage kids all in sports, loves how she can work whenever and wherever she wants.
"While I loved my career when I was single, I found the stress of working long hours when I had small children was very taxing. I no longer feel stressed when one of my kids needs to stay home from school. I can take care of them and still work on my business. I wake up excited every morning. There is nothing like the sense of accomplishment that I feel when I learn something new or master a new skill."
Read how Crystal has achieved a family-work balance
that meets everyone's needs, especially her own!
The "bigger picture" of SBI! is the self-liberating empowerment.
Own your own life by doing what you love, by owning your own business.
What Makes These Folks (And Thousands Like Them) Winners?
They...
put themselves into SBI!'s hands
trust and follow the Action Guide
supply the Brain Attitude Motivation ("BAM!")
tune out all the other Web marketing noise and focus on building their businesses.
And soon, when they see a real business start to build, driven by targeted PREsold visitors (C

T

P) who Monetize...
They start to realize that their worlds have indeed changed forever, all because they jumped into SBI! with both feet and ran with it.
Try it and see for yourself...
Take SBI! home for a "No Risk Test Drive" today.