SBI! Reviews: Selling Your Own Products
"In life, you always get what you really want."

I read this quote somewhere about ten years ago by some philosopher who lived back in the 14th century and never really understood what it meant. In fact, I thought it was rather stupid actually.
But after the long journey I have been on, and continue on to this day, I now have the lessons of life and the insight required to truly understand the depth of that quote. To what lengths are you prepared to go to in order to reach your dream?
The things we think we want but aren't willing to make happen, we don't achieve. We let them go - maybe subconsciously. We decide it isn't worth the "push" or the effort. So in my mind, we didn't truly want it bad enough. So we often do get exactly what we "really" want... even on the subsconcious level.
What follows is my experience and how SBI was a crucially important tool in making it happen...
Starting Out in The Right Direction
I come from a family of builders, engineers and mechanically creative thinkers. And I loved building things from a very early age. I worked in a lumber yard as a kid and was exposed to the building industry which lead me to start my first company - a fence company at age 22.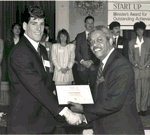 It was a great success and was recognized by the Ontario Government as one of the top student entrepreneur start ups in 1990.
However, this success came too easily. I was too young to really have a long term plan nor did I have a mentor to show me the way. So, after a few years, I decided to move west for work and more education and ended up going to law school. While going to law school, I started a contracting business. I installed a variety of wood and aluminum railing systems and noticed a problem with surface mounting wood posts to decks. None of the methods I found were as strong as I felt they should be. This was 1995. I began thinking about ways to solve this problem.
Committed to a Job But Never Giving Up
In 2001, while still working my day job, I began in earnest to take my ideas and sketches of a concealed internal wood post anchor system and bring it to life. I began the long process of developing the product through prototyping and testing. Since 2001, I have probably spent at least $50,000 to get to where I am today.

My first versions worked very well but were too expensive to commercialize. So I made other versions which were less expensive but far too weak. On one order, I spent $3000 and had hundreds of prototypes sent to me. The first test was a disaster. The feeling at the pit of my stomach was awful. The whole thing was a total waste.
I finally put them in my truck, drove to the landfill, threw them over my head into a pile of junk and cursed into the wind. Momentarily depressed, I asked myself why I was doing this and if this product would ever really do what I wanted it to do.
Then I picked myself up and said I can do this. The product concept is fantastic and it's better than anything out there. Some tiny little voice said, "Don't quit Richard. You are so close. You are being tested." I don't know if that was God speaking to me or my father who once stood near the finish line of my 400m provincial championship race as a 12 year old competing against 14 years olds and getting beaten soundly.
I could see him pushing me on. He was yelling, "Don't quit Richard. You're doing great!"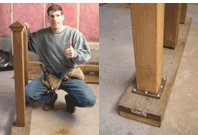 I crossed the line exhausted from competing in a higher age class and embarrassed. But my dad said, "Quitting can become easier and easier to do so don't let it become a habit."
Thanks to my loving parents, that is their greatest gift to me.
So I carried on and the next set of prototypes was perfect. This was sometime in 2004.
An Unlikely Webmaster
While the product was being developed, I was already thinking hard about how on earth I would ever sell it. There was no way any CEO of a big retailer would care about some guy with a briefcase of supposedly ground-breaking building products that have never been sold yet to anyone.
So I thought I have to ignore those guys and go around them. The only people who matter in this game are the consumers. I have to get my product to them and let them be the judge. The big stores will have to come to me if I prove the concept and then I will be in a stronger negotiating position. But how?
I bought my first computer and finally decided that this internet thing was indeed a wave and a paradigm shift for society. This could be the platform I needed to communicate with my market.
And Then I Stumbled Upon SBI
What a blessing to find someone who wasn't selling hype and really knew his stuff. I read everything from everywhere but, Ken Evoy stood out as honest, sincere and the real deal.
At that time, the whole marketing concept crystallized in my mind thanks to all my research and what Ken Evoy had been describing. I bought an SBI site and started building a deck building/backyard home improvement theme-based web site that I would call DecksgO.com. It would feature all my jobs over my building career and genuinely help people build better decks. The opportunity looked good as it was not hyper competitive on the Net so I had a chance at some big traffic numbers.
When the post anchor was tested and proven, I would then introduce it on my site in the most valuable location on the site. It would complement all the articles about building decks and railings and I would have built the confidence of the public through all my work. That is how I would get around the Home Depots of the world.
The Site Has Taken Off
From day one, the site just started growing - a trickle at first - then a huge burst - then a pause- then another rise. And on and on it has grown. It gets over 1200 unique visitors a day and still has way further to go. It's certainly in the top ten deck building sites on the Net and will go even higher in the coming years.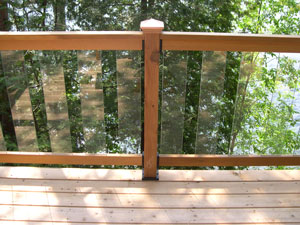 After three years of building the site and continuing with product development, I submitted my patent applications in the US and Canada. Then came the process of finding a shop to produce the product. My shop in Vancouver wanted $20,000 to set up dies and tools and about $7 a piece per unit. Customers were only willing to pay about $10 for this kind a product. Depression and frustration hit me again - for about 5 minutes.
Competing Globally in a Flat World
I then approached embassies in Ottawa and asked them to promote me to their Asian industry contacts. I was flooded with companies literally begging for my business. Three out of 25 companies really stood out as high quality. The $10 retail model now looked possible.
I ordered 1,000 units from a factory and was fearful they might end up in the landfill like the other time. I drove to the Port of Montreal with my pickup truck and jammed 25 boxes of product into every single square inch of my truck and passenger compartment. The drive back to Ottawa was fun as I laughed at how ridiculous the whole experience seemed. This was August 2006.
The Big Day
I put the links up on the site, created a Paypal shopping cart and started a pay-per-click campaign with Google and Yahoo to really see if anybody would buy it and more importantly, if they liked it.
Within 24 hours, the orders started. It was selling. I was busy packing and shipping every night. People were calling the toll free line from all over asking about the product and more importantly saying things like, "This is a fantastic solution. This is the product I have been looking for." Wow! I was happy but scared at the same time.
Within 2 weeks, a big forest products company selling fencing and decking accessories contacted me and wanted to license my product for mass distribution around the US. This was beyond my expectations.
I sold out my inventory in less than 8 weeks and had to offer customers a 10% discount if they placed an order while waiting for the next inventory. No matter. The orders kept coming in. So did the positive comments. Based on customer feed back, I am now developing about 6 other related products to round out the product line and have told my factory to go faster.
Licensing My Product
A licensing deal has been completed and the product will start appearing in stores across the US over the coming months. My business model is to develop perhaps half a dozen well positioned distributors to cover the mass market in North America and then use the Internet sales to fund my R&D efforts.
The web site has allowed me to "seed" the market, prove the concept and create incredible buzz among the public who now go into stores demanding the product. This is how I was able to level the playing field and run around the big corporations to get my product to market.
The Future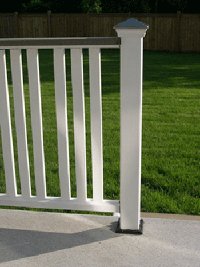 There are more hurdles to come but this venture has now reached the point where it is developing its own inertia.
Aside from personal tenacity and intense desire, my web site has made all of this possible. We are living in unprecedented times where individuals have the power to compete and communicate against larger adversaries in ways that were never conceived as little as ten years ago.
Have faith in your voice. Commit to giving the world the very best within you.
If you ever decide to build a web site and use it to its full potential, you must seriously consider SBI and thank Ken Evoy for giving his very best to the world.
Ken, thanks. Thanks so much.
Richard Bergman, LLB
President, Titan Post Anchor Systems
Editor, http://www.decksgo.com