A "WAHM" Case Study Update
SBI! Review by a Work at Home Mom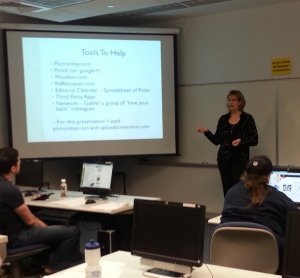 Over the four years that I have been involved with SBI!, I've told many people about my experience. I talk about the two reasons behind my successful on-line presence, the SBI! Action Guide and the contacts I made in the SBI! forums. Both resources continue to expand my site-building knowledge.
I also mention flexibility. The ability to schedule work on my site around my family's needs is an important factor for me.
Social Media Lessons
In 2012 one surprising by-product of my SBI! experience was what I learned about social media for businesses. Now I'm at a point where I'm an invited guest lecturer at a local community college, a continuing education instructor for health care professionals and a consultant for other webmasters.
For me, consulting really shows the beauty of the internet. Last year as a consultant I was able to schedule screensharing sessions with website owners from as far away as Israel. I taught folks how to set up Facebook, Twitter, and Pinterest accounts and use them to advance their business. This additional income stream is something that I certainly didn't expect when I first started my site.
Sponsorships and Relationship Building
My business relationships grew as well. Companies recognize that my large on-line following trusts my opinion because they know that I stand for quality products. As a result, I picked up several new sponsors this year and also received many products to review (requests too). Another surprising outcome.
Professional and Personal Growth
For years I have worked as a therapy manager. My employer, impressed with my new skills, asked me to build a business site and manage their social media presence. Once again, I did not expect to add to my professional experience as a result of building a site with SBI!.
2012 was also a very busy year for me as a mom of four teenagers. While I was not able to put as much energy into my e-business as I had hoped, my past efforts on my site sustained my on-line presence.
A website requires a certain minimum of care, however, so I always made sure to respond to emails, and provide new dinner ideas each week to my followers. As I mentioned early, I appreciate the fact that I can have a flexible schedule while meeting the needs of my family.
Starting my website has been one of the best decisions I have ever made. I look forward to expanding my on-line presence in the future.
Crystal Maleski

http://www.makedinnereasy.com/