SBI! Reviews: Local Business
Update #1
Ken, Can It Get Any Better Than This?
Hi Ken,
I noticed everyone else has been updating you about their story, so please don't think I'm bragging or anything when I bring you up to date here. I just thought you'd like to hear the latest. :-)
Since I first wrote about how SBI! transformed me from 'Asphalt man' to 'Digital man', things have simply gone from good to better.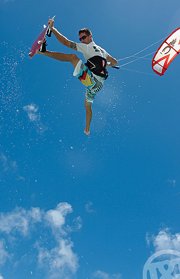 I am now living a dream life with my family in Anguilla by the beach. No, I'm not rich. I don't own one of those mansions that your daughter talks about on her SBI! site.
Only suckers believe that "get rich" nonsense -- I know because I used to be one of them.
But you know what? I have a skill set that allows me to do what I love to do, where I want to do it and when I want to do it (which means when I'm not sailboarding or spending time with my family). I can do this over and over and over again... actually, I have.
Ken, can you imagine less than two years ago I was slaving with hot asphalt maintaining driveways in the summer and freezing in the winter (and pretty well living from hand to mouth)...... to now living the dream.
Now I get up in the morning - and smile. All I need is my high speed connection and my VOIP phone connection and I'm in business. All thanks to you and the SiteSell team, SBI! and my hard work and dedication.
And to think it all started because you and my Dad were friends! And, just like you suggest, I started my (first!) site on a theme I knew... asphalt.
My Original SBI! Site
My first baby, asphaltkingdom.com, just keeps earning me income. Every time I think about those long hot days working with asphalt, I now smile.
My site continues to get great search engine rankings and super targeted traffic results.....and most importantly I make SALES that make me money. I have sold twelve of my businesses in a box packages this year totaling over $50,000...
http://www.asphaltkingdom.com/business-in-a-box.html
I also sell four day asphalt maintenance courses that are extremely popular. And Google AdSense kicks in additional solid revenues. Three streams of income!
So -- What More Could I Ask For?
Well, I got that too!!!  I get to "pay it forward" as an expert SBI! advisor, answering inbound e-mail and phone questions at https://question.sitesell.com for people interested in using SBI!.
Dreams do come true!!!
Judd Burdon